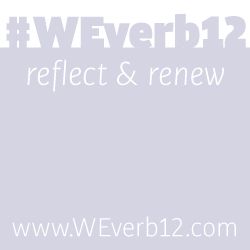 During the month of December, I'll be participating in
#WEverb12
. Every day they'll post a new question or prompt that will ask you to reflect on the past year and what you're looking forward to in 2013. You can answer these questions on your blog, Twitter or even Instagram so if you're interested, sign up!
Website
|
Twitter
|
Facebook
#2: Watch [LIVE]
What movie did you see this year that you would recommend to a friend?
Definitely
Ruby Sparks
. I saw this movie over the summer and it's one of the best indie films I've seen in a while. It's about an extremely successful young novelist now struggling to write his next book. He finally has a breakthrough when he dreams up this character named Ruby Sparks. Imagine his surprise when he finds her, alive and real, in his apartment a week later and believing they are in a relationship together.
It may sound a little crazy but it's funny and well-done. It's a great movie.
#3: Stay [LISTEN]How did you stay in the moment this year?
I stayed in the moment by trying to do more and not shying away from opportunities. This sounds like such a cliche but I tried to say YES a lot more. When Loren asked me to go to this Coffee Meets Bagel event in New York, I went. When Ate Jackie asked me to take yoga with her (and recently, buy a LivingSocial coupon for a painting class), I said I'd go try. Book events, meeting new people, trying to be more open. Actually sticking with my blog for a full solid year and documenting all the amazing books I read, posting pictures and writing. I'm not saying it's been a perfect year but I think I tried to live in the moment more and appreciate the good things.
#4: Experiment [GROW]
What did you do in 2012 that you had never done before? Will you do it again?
I went to
Book Expo America (BEA)
for the first time this year and it was
amazing
! So many books and opportunities to meet my favorite authors. I had no idea events like this existed. I only went for one day but it was enough to convince that I would be going again (and again and again). Next year I want to go for all three days and hopefully meet some of the fellow book bloggers that I've gotten to know recently. This is something I'm definitely grateful to have experienced this year.